A nurse holds a Pfizer-BioNTech COVID-19 vaccine in Southfield, Mich., on Nov. 5 2021. (Jeff Kowalsky/AFP via Getty Images)
The EpochTimes
By Zachary Stieber
The two most preferred COVID-19 vaccines in the United States are much less effective against the Omicron virus variant, a trio of new studies out Friday found.
The effectiveness of two doses of the Pfizer and Moderna COVID-19 vaccines dropped dramatically against both infection and hospitalization after Omicron became dominant in the United States late last year, researchers with the Centers for Disease Control and Prevention (CDC) and other health institutions said in one of the studies.
Drawing from records from institutions in 10 states between August 2021 and January, the researchers estimated that effectiveness within six months of dose two against emergency room and urgent care visits plummeted from 86 percent during the wave driven by the Delta variant to 52 percent during the Omicron-driven wave.
That protection dropped even further among those who got their second dose over six months prior, from 76 percent during the Delta dominance to 38 percent once Omicron became dominant.
Effectiveness against hospitalization also dropped 9 percent among those who finished their primary regimen within six months of being admitted and nearly a quarter—down to 57 percent—among those who had gone over six months since the second dose of the initial regimen.
Moreover, the vaccines provided little protection against infection, researchers found.
People who get the Moderna and Pfizer vaccines have been encouraged to get two doses of the jabs, with the second coming several weeks after the first.
A third dose of the vaccines, or a booster dose, restored much of the protection against infection and hospitalization but not all, the study indicated, though other studies have suggested that restored protection starts dropping after several weeks.
In another study that was not peer-reviewed but was reviewed by CDC officials before being published in the agency's quasi-journal, a different set of scientists, studying data from 25 U.S. jurisdictions, estimated that protection against infection dropped once Omicron became dominant in the country, but that a third dose helped prevent infections, especially among those 50 and older.
The third study, also completed by CDC researchers and published in the Journal of the American Medical Association after peer review, found that protection against symptomatic infection from the primary regimen of the Pfizer and Moderna vaccines dropped over time, and that protection against infection following a booster dose was significantly lower against Omicron than Delta.
"Although these findings provide evidence supporting that 3-dose schedules are protective and that booster doses are more protective than primary series alone, the significantly higher [odds ratio] for Omicron suggests that booster doses are less protective against Omicron than against Delta," researchers said.
None of the studies distinguished between people with natural immunity from prior infection—who CDC researchers just found had more protection against Delta than the vaccinated—the unvaccinated, and the vaccinated.
"It's a valid question to look at how prior infection combined with vaccination performs, but that was not our objective in this preliminary brief report," Mark Thompson, a CDC researcher who helped with the first study, told The Epoch Times in an email.
Other CDC researchers and the agency's headquarters didn't respond to submitted questions.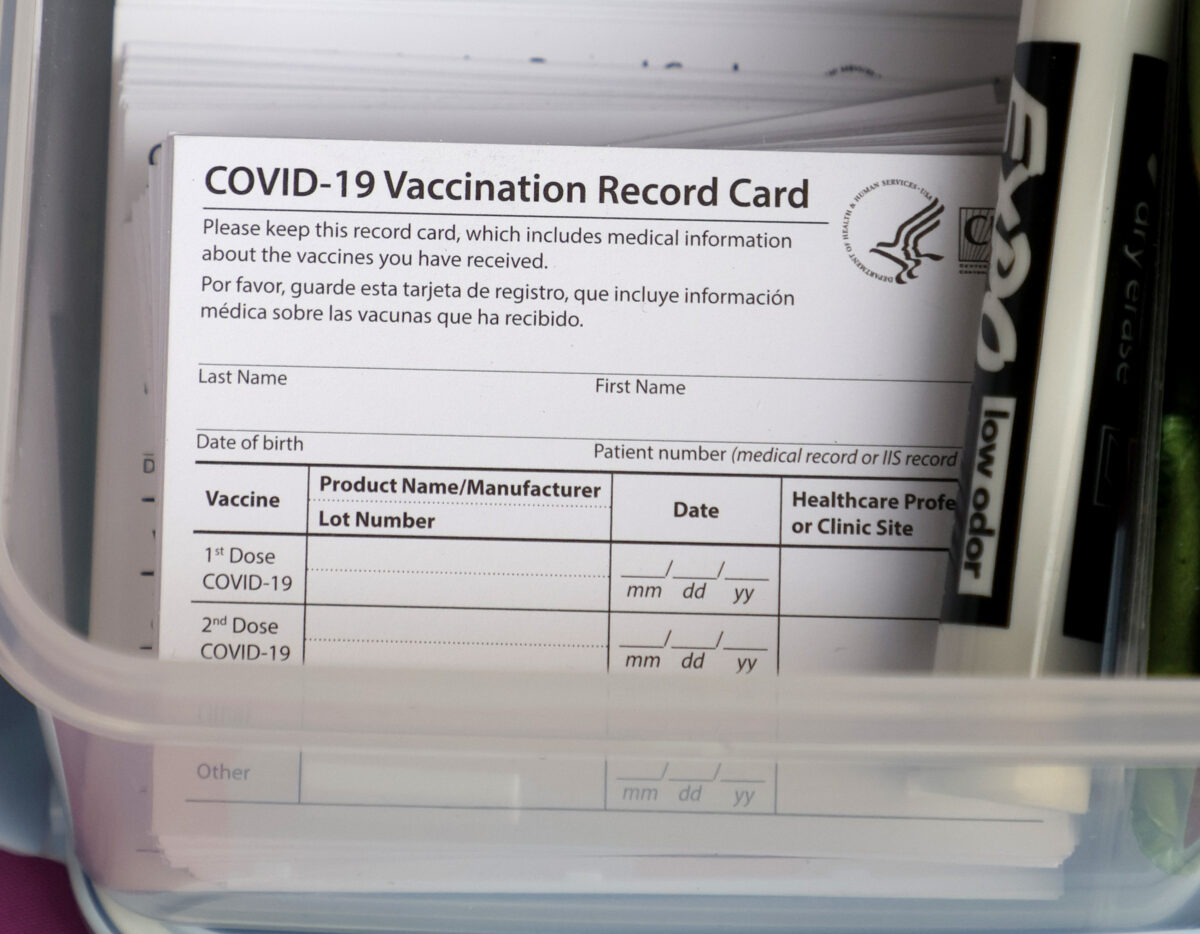 CDC Director Dr. Rochelle Walensky promoted the studies during a virtual briefing Friday, saying they highlighted the importance of getting boosters.
"Protection against infection and hospitalization with the Omicron variant is highest for those who are up to date with their vaccination, meaning those who are boosted when they are eligible," she said.
Dr. David Boulware, an infectious disease physician-scientist with the University of Minnesota who was not involved with the studies, told The Epoch Times in an email that the data indicated people who have been boosted have a 3- to 15-fold lower risk of infection than being unvaccinated.
"Vaccines are good, and boosters are better," he wrote.
Some others had a different view, including Dr. Paul Offit, who sits on the Food and Drug Administration's vaccine advisory panel.
While the data out so far indicates people 50 and older get a boost against severe illness from a third shot, "I still think I am looking for the study that says that people—young, healthy people—benefit from the third dose in terms of protection against severe disease," he told The Epoch Times.
The World Health Organization said this week that there is no evidence backing booster doses for health adolescents, and some countries have recommended against additional jabs for the population, though U.S. officials have not only made them available for children 12 and up, they recommend all individuals 12 and older get one.
"It's important to get vaccines because you're much worse off getting a natural infection than if you're not vaccinated," added Offit, who has recommended his son not get a booster at this time. "If you're vaccinated with two doses of vaccine, do you substantially benefit clearly benefit from the third dose? I think it is incumbent upon the CDC to prove them. And if they can't prove it, then withdraw that recommendation for the young healthy person, or at least make it a 'should be considered recommendation.'"