Employees of Nomi Health check in a long line of people for COVID-19 tests in North Miami, Fla., on Dec. 21, 2021. (Marta Lavandier/AP Photo)
The Epoch Times
By Jack Phillips
The United States' daily COVID-19 case numbers reached near-record levels due to the spread of the Omicron variant, surpassing the earlier Delta surge. But hospitalizations so far have remained relatively low, as researches have suggested the new strain presents milder symptoms.
As of Dec. 22, about 243,817 new COVID-19 cases were reported across the country, according to the most recent data released by the Centers for Disease Control and Prevention (CDC). Some officials believe the peak of the Delta surge came sometime in late August or early September. CDC data shows that about 198,000 cases were reported during Delta's peak on Sept. 1.
Around 64,000 Americans were hospitalized with COVID-19 on Christmas, or Dec. 25, according to data from the U.S. Department of Health and Human Services. That represents an increase of about 3 percent from the prior week when around 62,000 people were hospitalized on Dec. 18.
However, it's much lower than peak hospitalizations that were seen during the Delta surge and about half that of the record-high hospitalizations in January 2021. On Sept. 1, some 98,000 people were hospitalized around the United States due to the Delta surge, and on Jan. 14, 2021, more than 133,000 were hospitalized, the data shows.
Previously, health officials have said that hospitalization rates sometimes lag behind case rates as symptoms worsen.
New York state, meanwhile, broke its own daily record of COVID-19 cases last Friday after reporting about 44,331 new cases—or a 14 percent increase from the previous day.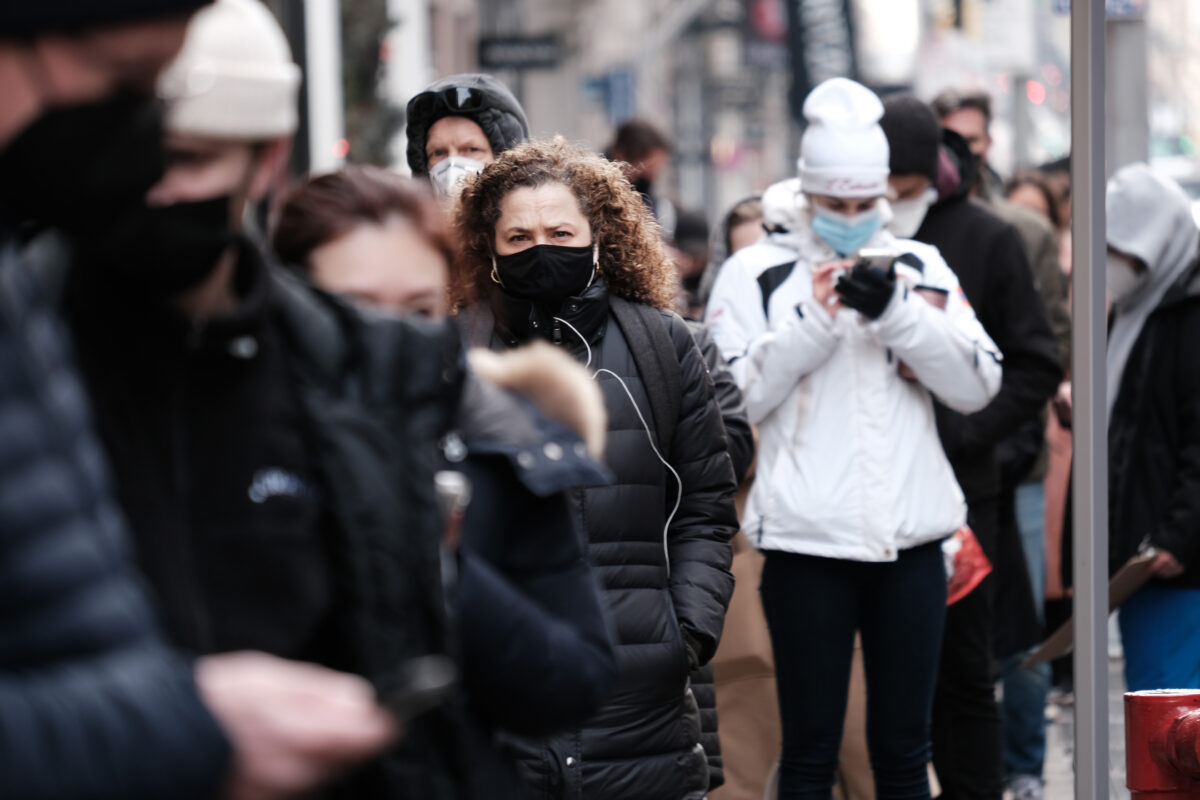 "This is not a surprise," Democrat New York Gov. Kathy Hochul told reporters of the surge. "This is a very, very contagious variant."
But several recent studies, including two published by UK researchers, suggest that Omicron presents less severe symptoms and results in fewer hospitalizations overall. So far, only one death has been reportedly associated with the variant in the United States, one in Germany, and around a dozen in the United Kingdom.
Researchers from the Imperial College London estimated that Omicron patients were 20- to 25-percent less likely to need hospital care and 40- to 45-percent less likely to be hospitalized for one night or more when compared to patients with the Delta variant.
The researchers also estimated that natural immunity, or protection from a prior infection, reduces the risk of hospitalization by 50 percent and the risk of a hospital stay of one night or more by 61 percent.
And scientists in a separate Scotland-wide study called Early Pandemic Evaluation and Enhanced Surveillance of COVID-19 said Omicron is associated with a two-thirds reduction in the risk of hospital admission compared with Delta.
More than a week ago, South Africa's Ministry of Health said the variant—which emerged in South Africa last month—noted that hospitalizations in the country "remain low."
The variant, Health Minister Joe Phaahla said at the time, shouldn't prevent people from enjoying a "joyous Christmas, and prosperous New Year celebrations."
Alexander Zhang contributed to this report.