A pupil wearing a face mask attends a class in a file photo. (JEAN-CHRISTOPHE VERHAEGEN/AFP via Getty Images)
The Epoch Times
By Jack Phillips
A recent update from Public Health England suggests that children who have not received a COVID-19 vaccine have a lower risk of death after contracting the virus than fully vaccinated adults in all age groups.
Public Health England, a government agency, reported (pdf) that three children under the age of 18 died in England within 28 days of testing positive for COVID-19 out of a total of 167,832 cases over a three-week period. The data showed that none of the three who died were vaccinated.
In other age groups, people aged 18 to 29 and 30 to 39 are slightly more likely to die of the virus within 28 days of testing positive even if they have been vaccinated with two doses, said the report published on Sept. 9. Meanwhile, the total number of 18- to 29-year-olds who died after testing positive for COVID-19 within 28 was 18, and 13 were unvaccinated. Forty-five people between the ages of 30 and 39 died of COVID-19, and 31 of them were not vaccinated.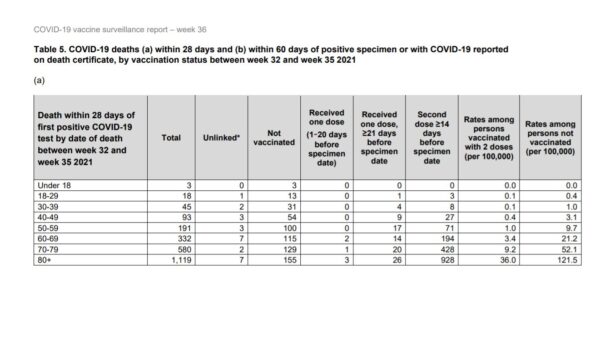 The data also showed that within the recent three-week time period, 1,119 people over the age of 80 died from the virus, with only 155 of them being unvaccinated. For the 70 to 79 age group, 580 people died from COVID-19 within 28 days, but only 129 were unvaccinated, the report said.
Public Health England argued that vaccines are still beneficial in preventing COVID-19 deaths but stressed that none are 100 percent effective.
"This is especially true because vaccination has been prioritized in individuals who are more susceptible or more at risk of severe disease," the report said. "Individuals in risk groups may also be more at risk of hospitalization or death due to non-COVID-19 causes, and thus may be hospitalized or die with COVID-19 rather than because of COVID-19."
The UK's Joint Committee on Vaccination and Immunization recommended that children aged 12 to 15 should not be offered the vaccine and cited concerns that more children may develop more vaccine-related side-effects than be negatively impacted by COVID-19.
"Taking a precautionary approach, this margin of benefit is considered too small to support universal COVID-19 vaccination for this age group at this time," the body said in a statement earlier this month. The organization said it wanted more data on the association between COVID-19 vaccines and myocarditis, or a type of heart inflammation, in young people.
And one of the committee's members, Adam Finn, argued that "the number of serious cases that we see of COVID in children this age are really very small," according to Reuters.
COVID-19 is the disease caused by the CCP (Chinese Communist Party) virus.