A coffin is loaded from a hearse into a storage container at the Dongjiao crematorium and funeral home, one of several in Beijing that handles COVID-19 cases, in China, on Dec. 18, 2022. (Getty Images)
The Epoch Times
By Shawn Lin and Olivia Li
News Analysis
The Chinese Communist Party (CCP) virus, commonly known as the novel coronavirus, is spreading at an alarming rate in China, with high chances of co-infections and cross-infections. Scientists expressed concerns over the risk of dangerous new variants.
A leaked internal memo from a Dec. 21 teleconference meeting of China's National Health Commission revealed that the number of new infections in China was 36,996,400 as of Dec. 20. From Dec. 1 to 20, the number of infections totaled 248 million, or 17.56 percent of the country's total population.
'3 Waves' of the Epidemic
This wave of infections may not have reached its peak. China's chief epidemiologist, Wu Zunyou,  predicted on Dec. 17 that "three waves" of the epidemic are to be expected this winter: the first wave would occur from mid-December to mid-January next year, mainly in urban areas; the second wave could arrive between late January and mid-February due to migrant workers returning to their hometowns for the Chinese New Year; the third wave could set in between late February and mid-March when these workers return to work after the Chinese New Year.
Feng Zijian, a member of China's Pandemic Control Expert Team, said in a lecture on Dec. 7 that according to a simulation model, when the outbreak peaks in China, the infection rate may reach about 60 percent, and then it will gradually fall to a stable state. Eventually, 80 percent to 90 percent of the population would be infected, he said.
Based on China's population of 1.41 billion, 60 percent is about 846 million people, and 90 percent is about 1.27 billion. This means a huge population will become infected within a few months.
During the first three years of the epidemic, the CCP insisted on a different approach—the "dynamic zero-COVID" policy—in fighting COVID compared to the rest of the world.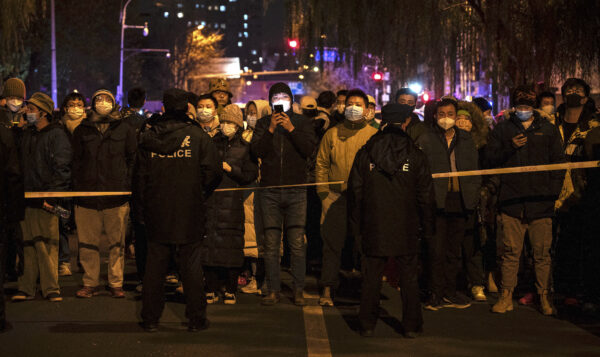 Virus Strains
Dr. Tang Jingyuan, a China expert with a medical background, pointed out that the CCP's draconian approach had two consequences. First, the Chinese people have weaker immunity to the virus, which was also associated with the ineffectiveness of the Chinese-made vaccines. Second, China is missing a whole process of virus evolution during the three years of lockdown measures.
Tang explained that the dominant strain of the virus in other countries is mainly Omicron, whereas, in China, the virus did not have the chance to undergo this natural evolutionary process, with the fastest spreading subtype quickly replacing the previous subtypes. Therefore, early viruses may still exist in China, and a person may be infected by more than one subtype, or cross-infection may occur between two patients. In the event of cross-infection, a patient may develop recombinant COVID variants.
At a press conference on Dec. 20 on pandemic control, Xu Wenbo, director of the Institute of Viral Diseases of the Chinese Center for Disease Control and Prevention, said that in the last three months, three dominant strains had been detected in China, and there are more than 130 subtypes of Omicron currently circulating in the country.
Tang said there are two distinct characteristics of China's recent outbreak. One is the alarming speed of transmission, which has far exceeded the current human knowledge of viruses, with 37 million new infections a day—"a speed that is unmatched by any other country," Tang said.
The other characteristic is that the number of serious and fatal cases is exceptionally high, which is also unexpected and currently has no scientific explanation.
The Epoch Times reached out to the largest funeral home in Beijing on Dec. 24. The employee who answered the phone said that all the freezers for corpses were full and that many corpses had to be stored in another funeral home in Beijing's eastern suburb, and then transferred back when they can be cremated.
When asked how long the wait was for the cremation, he declined to reply.
Crematoriums across China are reportedly overwhelmed amid the recent outbreak.
'Global Catastrophe'
China's sudden reopening has alarmed the international community.
The Washington Post published an op-ed on Dec. 20, titled "China's new covid nightmare could become a global catastrophe."
"China's 'zero covid' policy was unsustainable and abruptly scrapped, but the absence of a coherent fallback strategy threatens a fresh set of nightmares for its population, its economy and the Communist Party leadership. A new crisis could shake the whole world," the article reads.
"One danger is that China's outbreak will generate new variants that threaten the rest of the world. It is impossible to predict, but previous variants with a transmission edge have spread rather quickly. Millions of infections in China increase the chances of a new variant rising."
Daisy Li contributed to this report.