A child receives a nucleic acid test for COVID-19 in Zhengzhou, in central China's Henan Province on July 31, 2021. (-/AFP via Getty Images)
The Epoch Times
By Alex Wu
Officials in China's central province of Henan have said that the COVID-19 infection rate in the region was 89 percent, as the country battles a surge of infections and communist authorities continue to conceal the true death toll figures.
Authorities in Henan, the country's third most populous province, said at a Monday press conference that as of Jan. 6, the province's infection rate was 89 percent, including 89.1 percent in cities and 88.9 percent in rural areas, provincial official media Zhengzhou Daily reported. Those figures mean that 88.5 million people out of the province's total population of 99.4 million have been infected.
The figures align with other statements made by health officials about high infection rates in recent weeks. An official said in December that infections in large cities exceeded 50 percent, and hit 80 percent in China's capital Beijing. A leaked document from the country's top health body also estimated that around 250 million Chinese were infected with COVID in the first 20 days of December.
Henan authorities also said that as of Jan. 7, 95 percent of hospital beds in the province were in use, and 82 percent of intensive care unit (ICU) beds were in use, and no serious shortages of medical resources occurred. The official remarks stood in stark contrast with widespread accounts from healthcare staff and Chinese citizens that hospitals have been overwhelmed and haven't managed to accommodate the deluge of COVID patients.
The official also claimed that the region had passed the COVID peak "smoothly."
On social media, Chinese residents questioned authorities' claim about the lack of medical shortage, while criticizing the regime's lack of transparency.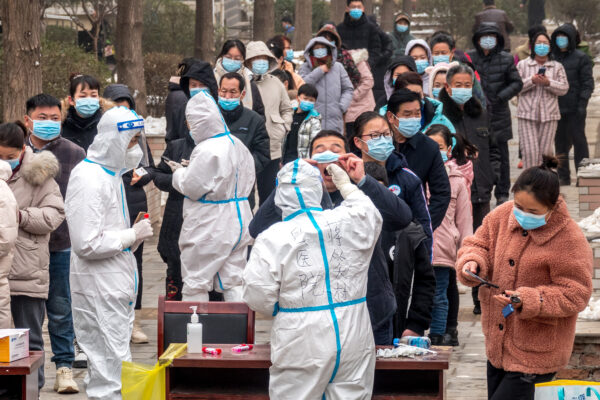 A Henan food blogger wrote: "I've been diagnosed with pneumonia, and I've been to four hospitals but couldn't get hospitalized because hospital beds run out. The inpatient department of every hospital does not admit patients, and there're hundreds of people registered waiting for a hospital bed. If this isn't a serious medical resources shortage, then what is? Yesterday (Jan. 8) I went for a reexamination, and the hospital run out of medicine."
Another netizen wrote: "Where did the data come from? There is no PCR testing, no statistics, let alone reporting, where did you get 89%! And how could you say 'passed smoothly'? Why don't you dare to publish the statistics of how many people died of COVID? My grandma died of it."
Jiao Yahui, director of the Department of Medical Affairs of China's Health and Medical Commission, in an interview with China's state broadcaster CCTV on Jan. 8, claimed that the percentage of COVID patients who developed pneumonia in the latest outbreak was "relatively low, about 8 percent."
Ms. Wang, a member of the medical community in Shanghai, told Radio Free Asia on Jan.9, "I have seen that the infection rates in many places are more than 70 percent, based on the 8 percent rate, then 80 million people across the country have developed pneumonia."
China observer Yue Shan wrote in his column for the Chinese-language edition of The Epoch Times that the communist regime's strategy was to let the virus rip through the population, without putting any healthcare measures in place, to achieve herd immunity. Such a plan, Yue said, has a "total disregard for human life."
Meanwhile, China's National Medical Security Administration announced on Jan. 8 that it would not include Pfizer's antiviral drug Paxlovid in the country's medical insurance because Pfizer's quoted price was too high.
Paxlovid, found to have reduced hospitalizations in high-risk patients by around 90 percent in a clinical trial, is in high demand with many Chinese attempting to get the drug abroad and have it shipped to China. Beijing has been largely resistant to western vaccines and treatments. Oral treatment Paxlovid is one of the few foreign ones it has approved.
In February last year, China approved Paxlovid, which was supposed to be largely available via hospitals, to treat high-risk patients in several provinces. Pfizer last month reached an agreement to export Paxlovid to China through a local company to make the medicine more widely available.
Due to severe shortages of antivirals as 1.4 billion Chinese battle infections, many have turned to underground channels to secure Paxlovid and other drugs, according to domestic media. Scalpers charge as much as 50,000 yuan ($7,260) for a box of Paxlovid, more than 20 times its original price of 2,300 yuan.
If the drug were covered by China's national medical insurance, patients would only pay 189 yuan per box ($28), according to mainland Chinese media Caijing.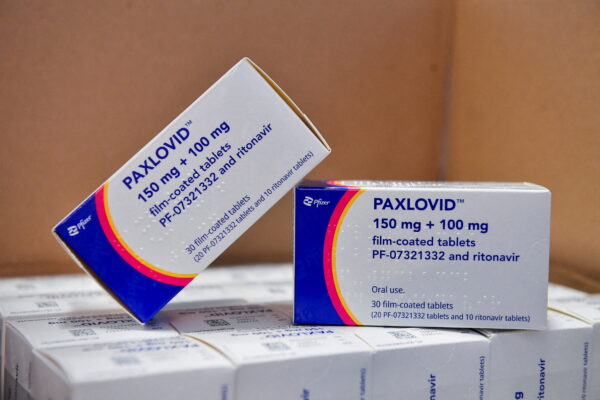 Pfizer CEO Albert Bourla said on Jan.9 that talks with China for Paxlovid had broken down after China had asked for a lower price than Pfizer is charging for most lower-middle-income countries.
"They are the second highest economy in the world and I don't think that they should pay less than El Salvador," Bourla said.
The cost of the drug in China is about half of the price charged in the United States.
Hui Huyu, a senior current affairs commentator, told the Chinese-language edition of The Epoch Times on Jan. 9 that the Chinese Communist Party will not cover Paxlovid "because it is unwilling to spend money for the lives of Chinese people."
"When it is included in the national medical insurance, the government has to pay a large part of it, and the common people pay a small part. Then the government's medical insurance expenditure will be very large," Hui said.
"The CCP regime has always been unwilling to invest a large amount of money in Chinese people's medical insurance. Therefore, this drug can't be included in the medical insurance."
Reuters, Luo Ya, and Cheng Jing contributed to this report.