The Epoch Times
By
New York City municipal workers protested in the thousands on Monday against a looming vaccine mandate as the deadline looms for about 160,500 city employees, including for first responders, to get a first dose of the COVID-19 jab.
The expanded mandate means a total of more than 300,000 city employees will be hit with vaccine mandates by Nov. 1.
The thousands of protesters met in Brooklyn before marching peacefully across the Brooklyn Bridge. They proceeded to City Hall in Manhattan.
The protesters, including a large presence of police and firefighters, carried large American flags and multiple signs and banners. "Workers are essential, mandates are not," one sign reads. Another said, "No jab for my job."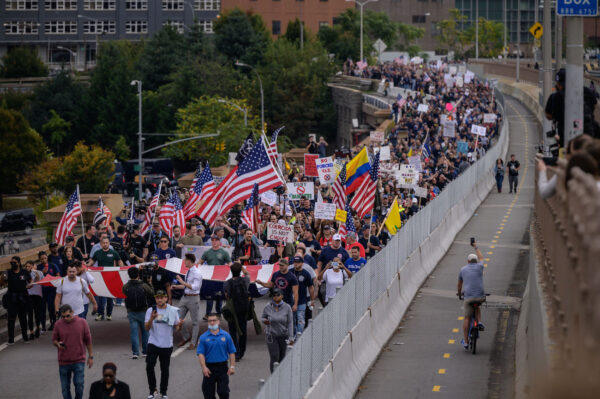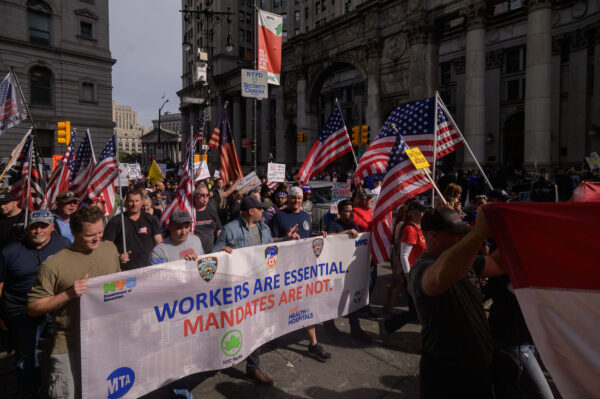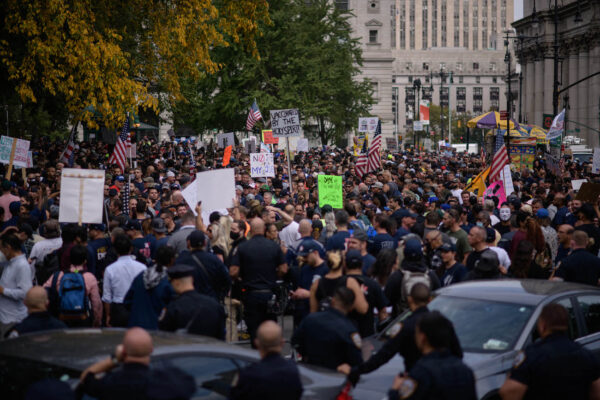 The protest comes after Mayor Bill de Blasio announced a sweeping mandate last week requiring the entire municipal workforce to have at least one dose of the COVID-19 vaccine by Nov. 1. The new mandate replaced what was originally a requirement to take the vaccine or be tested weekly.
Each city employee would also receive an extra $500 in their paycheck for receiving the first shot at a city-run site before Oct. 29. Those who choose not to take the vaccine "will be placed on unpaid leave [starting Nov. 1] until they show proof of vaccination to their supervisor."
The New York City government did not immediately respond to a request for comment.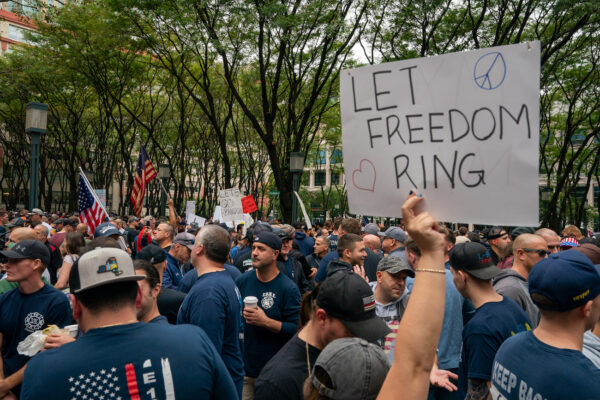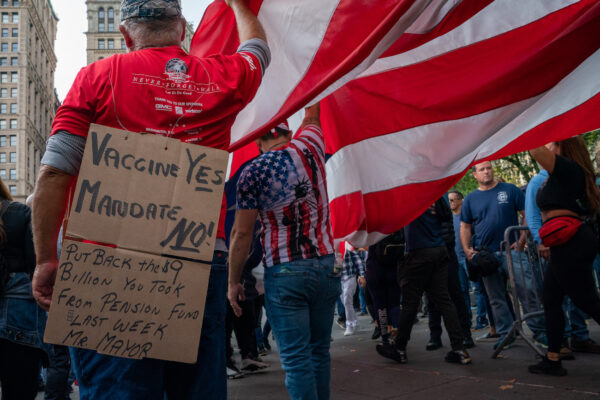 The Police Benevolent Association filed a lawsuit on the same day against the city to halt the sweeping mandate, seeking to block the suit. The union argued that the city had offered "no explanation, much less a rational one, for the need to violate autonomy and privacy of NYPD officers in such a severe manner, on the threat of termination," reported the Gothamist.
De Blasio said last week that about 46,000 city workers of the 160,000 remain unvaccinated.
The mandate deadline of Oct. 29 does not apply to uniformed correction officers. They have until Dec. 1 to receive their first shot, owing to an ongoing staffing shortage at Rikers Island.
Previously, only staff under the Department of Education and health workers were given the COVID-19 vaccine mandate.