A view of Moderna headquarters in Cambridge, Massachusetts, on May 08, 2020. (Maddie Meyer/Getty Images)
The Epoch Times
By Mimi Nguyen Ly
Moderna announced on Aug. 23 that it has requested emergency use authorization from the Food and Drug Administration (FDA) for its bivalent COVID-19 booster vaccine targeted for the Omicron subvariants BA.4 and BA.5.
The company's latest so-called bivalent vaccine dose, mRNA-1273.222, targets the BA.4/BA.5 subvariants of the Omicron strain as well as the original strain of SARS-CoV-2 that first emerged in Wuhan, China, in 2019.
The Massachusetts-based drugmaker said that if its FDA application is cleared quickly, it would be ready to deliver the doses in the United States in September. The United States, as well as Britain and EU members, have been preparing for vaccination campaigns in the fall season in hopes of preventing future surges in COVID-19 cases.
Stephane Bancel, the CEO of Moderna, said the latest booster "may offer higher, broader, and more durable protection against COVID-19 compared to the currently authorized booster."
Moderna announced on Aug. 23 in a release: "The [FDA] application is for a 50 µg booster dose for adults 18 years of age and older, and is based on preclinical data [for mRNA-1273.222] as well as clinical trial data available for the company's BA.1 Omicron-targeting bivalent booster candidate, mRNA-1273.214,"
A mid-to-late stage trial for the BA.4/BA.5-targeting vaccine is also under way, according to the company.
The United Kingdom last week granted conditional approval to Moderna's BA.1-targeting bivalent booster for adults.
According to Moderna, clinical trial data for the BA.1-targeting bivalent booster showed that it "met all primary endpoints, including superior neutralizing antibody response against Omicron (BA.1) when compared to a 50 µg booster dose of mRNA-1273 in previously uninfected participants." The vaccine also showed "potent neutralizing antibody responses against the Omicron subvariants BA.4 and BA.5 compared to the currently authorized booster (mRNA-1273) regardless of prior infection status or age."
Moderna's Aug. 23 FDA request comes after the agency in June advised COVID-19 vaccine makers to adjust their shots to target BA.4 and BA.5, and said it would not require studies testing the shots in humans for authorization, similar to how annual changes to flu vaccines are handled.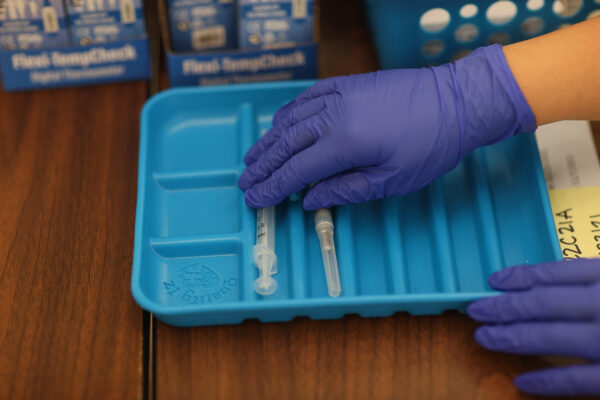 Deals Inked With Biden Administration
The request comes a day after Pfizer-BioNTech also announced it had applied for FDA emergency use authorization for its own BA.4/BA.5-targeting bivalent COVID-19 vaccine, which it is seeking for people aged 12 and over.
Pfizer-BioNTech has a $3.2 billion deal with the U.S. government for 105 million COVID-19 vaccine doses for a fall vaccination campaign, which covers those tailored for the new Omicron variants.
Moderna also has a deal with the U.S. government valued at up to $1.74 billion, for 66 million doses of its bivalent COVID-19 vaccine booster targeted for the new Omicron variants. Moderna is expected to file an application for emergency authorization soon.
Combined, the two agreements would make available about 171 million bivalent vaccine booster doses if they are authorized and recommended. Both Pfizer and Moderna agreements also include options for a total of 600 million doses, which comprise 300 from each company, but that can only be exercised if Congress clears additional funding.
Heart Inflammation
COVID-19 vaccines have remained a controversial topic amid reports of adverse effects. The previously-authorized COVID-19 vaccines from both Pfizer-BioNTech and Moderna have been linked with heart inflammation, including myocarditis and pericarditis, data from around the world have suggested.
Younger populations, especially young men, have been observed to experience these conditions at much higher than expected rates, data from the Centers for Disease Control and Prevention (CDC) previously suggested.
Moderna previously announced in June that over 1,000 cases of heart inflammation detected in its COVID-19 vaccine recipients were in people under 40 years old.
A study of tens of millions of Europeans published in April found that heart inflammation requiring hospital care was more common among people who received COVID-19 vaccines than those who did not
A small number of deaths from heart inflammation after COVID-19 vaccine have also been reported.
Recently-obtained Moderna documents regarding their COVID vaccine trial on animals, showed that some of the offspring of rats that were injected with Moderna's mRNA shot developed rib malformations. The documents, obtained via a Freedom of Information Act request by Judicial Watch, have not yet been made public but were analyzed by former pharma executive Alexandra Latypova and reviewed by The Epoch Times.
Zachary Stieber and Enrico Trigoso contributed to this report.