A man stands in front of a cordoned-off area, where COVID-19 patients lie on hospital beds in the lobby of the Chongqing No. 5 People's Hospital in China's southwestern city of Chongqing on Dec. 23, 2022. (AFP via Getty Images)
The Epoch Times
By Alex Wu
China has experienced a massive COVID-19 surge across the country since December 2022, with infection rates estimated at more than 80 percent, and experts predict that another wave of infections is coming.
The Chinese communist regime's State Council stated during a Jan. 30 press conference that the overall COVID-19 situation in the country has entered a low epidemic level and that various places have maintained a steady decline in cases.
However, the regime's lack of transparency has cast doubt over the COVID-19 information it has released.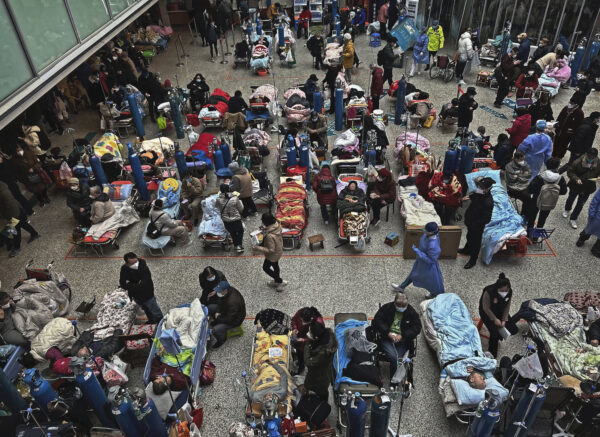 According to mainland Chinese media, the more infectious Omicron subvariants of the SARS-CoV-2 virus, such as CH.1.1, XBB.1.5, BQ.1.1, BQ.1, and XBB, have been detected in China.
Zhang Wenhong, China's top virologist and director of China's Medical Center for Infectious Diseases, predicted that the peak of the next wave of COVID-19 infections in China will be in May and June. He estimated that the infection rate of the next wave will be about 25 to 50 percent and that symptoms may be less severe compared with the current wave.
Xing Mingyou, a medical expert at Huazhong University of Science and Technology in China, also predicted another wave, telling Yangtze River Daily that the peak of the next wave of infections may come between March and May and that the number of infections and disease severity will be weaker than those of the previous wave.
2 Groups Considered at High Risk
Lu Mengji, a Chinese German virologist, told China News Weekly on Feb. 1 that it's expected that from late March onward, as the population's immunity declines, the risk of infection will increase. He also predicted another COVID-19 wave in May and June.
Lu said that many elderly people who have been infected and people with poor physical fitness may experience more severe symptoms if they're infected again.
Dr. Jonathan Liu, a professor at a traditional Chinese medicine college in Canada and director of the Kangmei Traditional Chinese Medicine Clinic, told The Epoch Times on Jan. 31 that the COVID-19 epidemic in China is complicated.
"The Chinese regime saying that the epidemic has reached a 'low epidemic level' is a bit too optimistic and too early," he said. "The risk of the large number of people traveling cannot be taken lightly, and rural areas may face greater risks. High mortality rates may be more likely to occur among the elderly."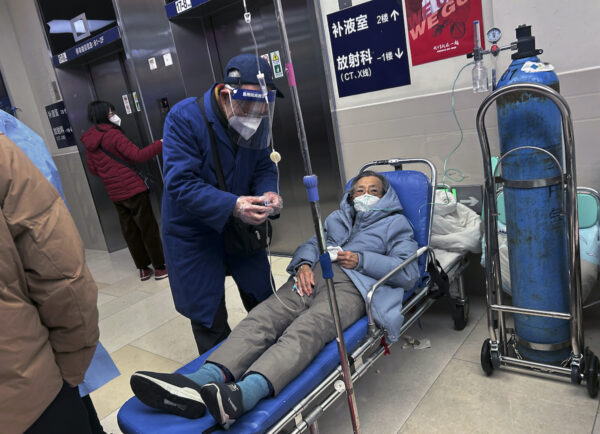 COVID-19 vaccination rates among the elderly in China are extremely low.
The Epoch Times obtained an internal document issued by Hezhou City government of Guangxi Province on Jan. 19 that shows that the elderly population in the city doesn't want to be vaccinated.
Many people in China have been worried that Chinese-made vaccines may have undesired side effects and haven't encouraged their elderly to get vaccinated.
Liu said the COVID-19 infections in mainland China are mainly caused by the BA.5 subvariant of the Omicron variant; the XBB.1.5 subvariant, which has been spreading all over the world; and the CH.1.1 subvariant, which is more concerning.
"Some people call it 'Orthrus', the two-headed dog in Greek mythology, because of its super immune escape ability and [because its] highly transmissible. Vaccination and booster shots are useless. The next wave of infections may surge in the mainland soon, and there may even be a third wave," he said.
Li Yun and Fang Xiao contributed to the report.