Protesters gather along a street during a rally for the victims of a deadly fire as well as a protest against China's harsh COVID-19 restrictions in Beijing on Nov. 28, 2022. (Michael Zhang/AFP via Getty Images)
The Epoch Times
By Frank Fang
Some Chinese cities have announced easing their COVID-19 restrictions following widespread protests in China. However, Chinese officials have already said they will persist in their dynamic zero-COVID policy and have not given any indication of when it would end.
In Guangzhou, a manufacturing hub located near Hong Kong, local health officials announced lifting lockdowns in several parts of the city on Nov. 30, but said areas of the city designated "high-risk" would remain under lockdown. The city also announced that it will stop ordering district-wide mass COVID-19 testing.
While some locals in Guangzhou will see their life return to some form of normality, others will quickly find themselves under new restrictions. For instance, citizens in some parts of Baiyun district in Guangzhou were told on Wednesday that they could not leave their homes, after their areas were designated as "high risk."
More locals will be prevented from leaving their home from Dec. 1, after health officials in Guangzhou's Liwan district designed several new areas in the district as "high risk."
Elsewhere in Zhengzhou, a city that is home to a major assembly plant making Apple's iPhones, businesses including supermarkets, libraries, gyms, and restaurants are allowed to resume operations from Nov. 30, after local officials said normal COVID-combating measures would be put in place.
In Shanghai, health officials announced Wednesday that they would remove control measures in 24 "high-risk" areas beginning on Dec. 1.
Chongqing, a mega city in southwest China, and China's capital Beijing have also eased their restrictions.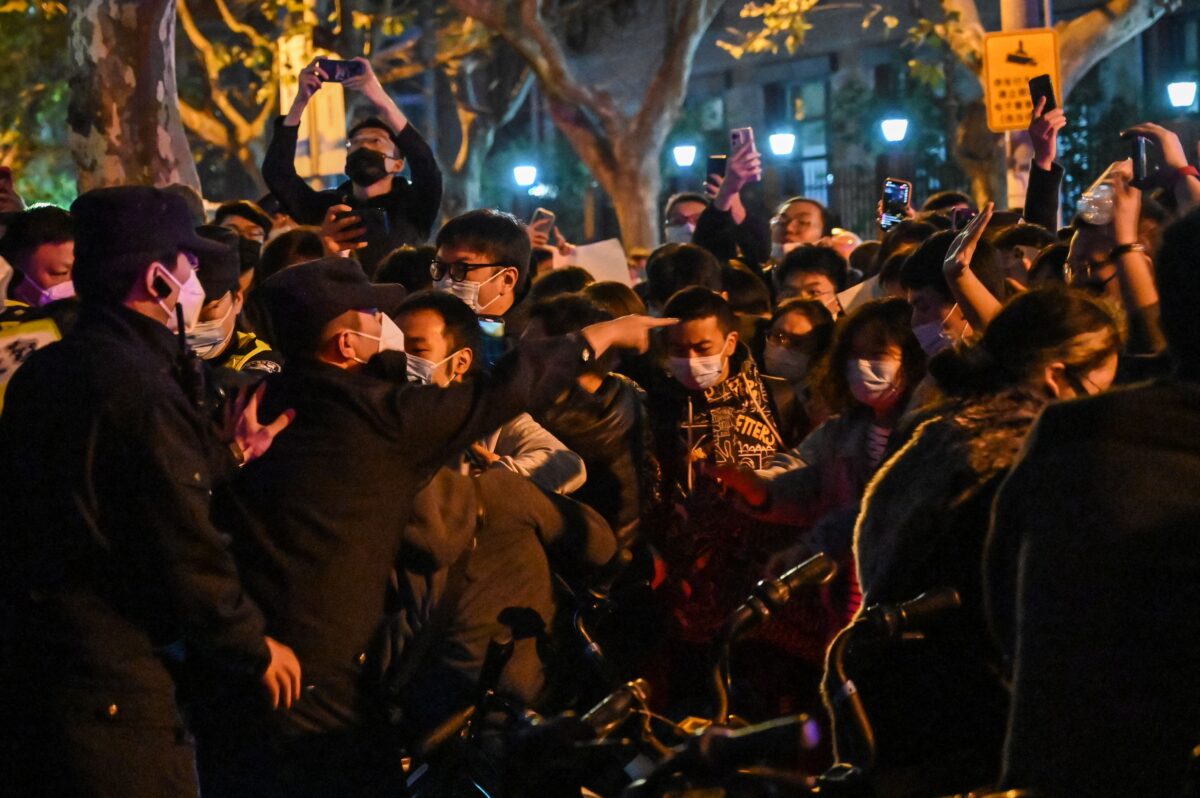 Protests
Protests broke out across China over the weekend of Nov. 26–27, spurred partly by anger over a deadly fire in China's far-western Xinjiang region that killed an officially reported 10 people. Local COVID-19 restrictions apparently prevented residents from escaping the fire and delayed first responders from reaching the scene.
The protests were also sparked by mounting public frustration over China's draconian zero-COVID policy, which subjects people to repeated testing and confinement to their homes, as well as suspending business operations.
Protesters used the rallies to demand more than just ending lockdown measures—some demanded political reforms, including calling for Chinese leader Xi Jinping and the Chinese Communist Party (CCP) to step down.
Since the deadly fire, there have been 51 public protests across 24 cities in China, according to the most recent tally by Nathan Ruser, a researcher at the Australian Strategic Policy Institute. Among those, seven protests took place on Nov. 29.
It remains to be seen whether protesters in China will accept the communist regime's decision to ease COVID restrictions, and whether they will continue to take to the streets making political demands.
Many protesters have been either detained or arrested by Chinese authorities. In an interview with the Chinese edition of The Epoch Times on Nov. 30, a woman who witnessed a protest in Guangzhou's Haizhu district a day earlier, said local police arrested more than 10 protesters. The woman asked to be identified by a pseudonym for fear of retribution.
At that protest in Haizhu, China deployed riot police in white hazmat suits to disperse protesters.
"Their appeal was ending the lockdown," she said. "They didn't want to be locked up. They chanted slogans calling for an end to lockdown."
A man who tried to take photos of a protest in Shanghai on Sunday morning told The Telegraph that the police tied his wrists and ankles to a chair after being detained.
"They said I wasn't allowed to take pictures. They are so afraid that I will tell other people the truth," he said, adding that how he was treated inside the police station was "a simple form of torture."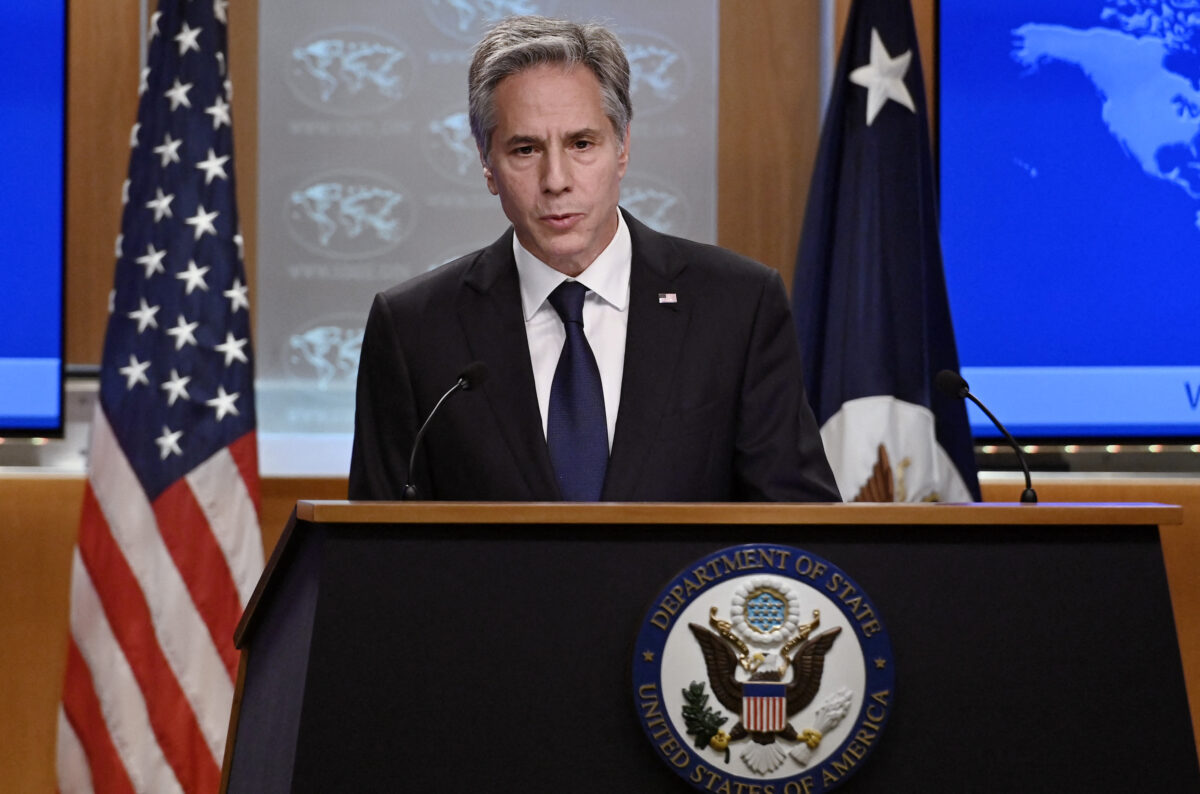 'A Sign of Weakness'
U.S. Secretary of State Antony Blinken voiced support for protesters in an interview with NBC on Wednesday, saying that Beijing's suppression of recent protests is a "sign of weakness."
"I think any country where you see people trying to speak out, trying to speak up, to protest peacefully, to make known their frustrations, whatever the issue is—in any country where we see that happening and then we see the government take massive repressive action to stop it, that's not a sign of strength, that's a sign of weakness," Blinken said.
A day earlier, the Chinese regime's top law enforcement body, the Central Political and Legal Affairs Commission, issued a veiled warning to protesters. In a statement, the commission vowed to "resolutely crack down on infiltration and sabotage activities by hostile forces in accordance with the law."
"Political and legal organs must take effective measures to … resolutely safeguard national security and social stability," it added.
Blinken added, "China has to figure out a way forward on dealing with COVID, a way forward that answers the health needs but also answers the needs of the people."