A health care professional prepares to enter a COVID-19 patient's room in the ICU at Van Wert County Hospital in Van Wert, Ohio, on Nov. 20, 2020. (Megan Jelinger/AFP via Getty Images)
The Epoch Times
By Jack Phillips
The U.S. Department of Health and Human Services (HHS) confirmed on Jan. 11 that it has extended the federal COVID-19 state of emergency.
HHS Secretary Xavier Becerra issued a declaration, saying that "after consultation with public health officials as necessary," the administration decided to renew the emergency declaration that was first issued in early 2020 during the Trump administration. Including the latest declaration, the federal emergency has been renewed about a dozen times since then.
"The COVID-19 Public Health Emergency remains in effect, and as HHS committed to earlier, we will provide a 60-day notice to states before any possible termination or expiration," a spokesperson for HHS told media outlets on Jan. 11.
The emergency declaration has had a significant impact on the U.S. health care system since it was enacted, providing health insurance coverage protection for millions along with giving hospitals more resources and more telehealth services. However, top officials—including President Joe Biden himself—have signaled that they believe the COVID-19 pandemic is over.
But on Jan. 11, the Biden administration didn't give an indication as to when the emergency might end.
The White House will likely face pressure from House Republicans to end the emergency as GOP lawmakers have signaled they want to investigate the Biden administration over its COVID-19 response. The origins of the virus, which emerged in China in late 2019, also will be probed, Republican lawmakers have signaled.
Pressure to End Emergency
About two dozen Republican governors in December 2022 called (pdf) on Biden to end the COVID-19 emergency, saying that it was inflating the population covered under Medicaid and costing states hundreds of millions of dollars.
The health emergency is "negatively affecting states, primarily by artificially growing our population covered under Medicaid … regardless of whether individuals continue to be eligible under the program," they wrote. "States are required to increase our non-federal match to adequately cover all enrollees and cannot disenroll members from the program unless they do so voluntarily.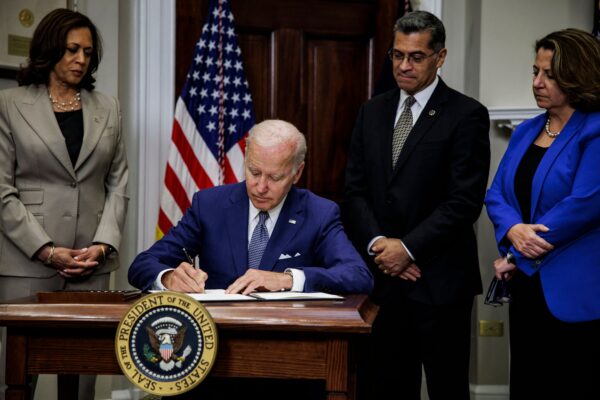 "Making the situation worse, we know that a considerable number of individuals have returned to employer-sponsored coverage or are receiving coverage through the individual market, and yet states still must still account [sic] and pay for their Medicaid enrollment in our non-federal share. This is costing states hundreds of millions of dollars."
In November, Republican and Democrat senators joined to approve a measure to end the federal emergency, although Biden said he would veto it if it reached his desk.
"It has now been more than 2 1/2 years since this first-issued proclamation declaring the national emergency concerning declaration and been extended twice by President Biden since the initial declaration, most recently February [2022]," Sen. Roger Marshall (R-Kan.), who sponsored the Senate resolution, said during a floor speech in mid-November 2022.
COVID-19, according to Washington Gov. Jay Inslee in October 2022, is "no longer an emergency thanks to vaccinations, medical treatments, and the innumerable efforts of countless Washingtonians since the state had the nation's first documented case in January 2020." Washington was the first state to report a confirmed COVID-19 case in the United States, doing so on Jan. 20, 2020.
"We've come a long way the past two years in developing the tools that allow us to adapt and live with COVID-19," Inslee said at the time. "Ending this order does not mean we take it less seriously or will lose focus on how this virus has changed the way we live. We will continue our commitments to the public's well-being, but simply through different tools that are now more appropriate for the era we've entered."
In California, Gov. Gavin Newsom, also a Democrat, said the state's emergency will be ending on Feb. 28.