A police officer stands guard in Tiananmen Square before the closing session of the National People's Congress at the Great Hall of the People in Beijing, China, on March 11, 2022. (Kevin Frayer/Getty Images)
The Epoch Times
By Alex Wu
More Than 11-Million Residents Forced to Stay Home.
Tiananmen Square—China's political center and symbol of the communist regime's power—has been placed under strict lockdown as a COVID-19 outbreak hits Beijing.
Chinese authorities have tightened control measures in the capital as per its official "Zero-COVID" policy with nine city districts being included in the lockdown orders.
The Beijing Tiananmen District Management Committee announced via its website on Tuesday that Tiananmen Square would be closed from Wednesday till June 15 as part of anti-COVID measures. This is the first time that Tiananmen Square has been locked down due to the pandemic.
The authorities also announced that starting Tuesday, control measures would be upgraded in the nine districts of the city's total of 16, including Chaoyang, Haidian, Fengtai, Shijingshan, Tongzhou, Shunyi, Changping, Fangshan, and Mentougou.
In these districts, all residents are restricted from free movement and are ordered to work from home until May 28.
The order affects 11.8 million people among the total 21.88 million residents of Beijing.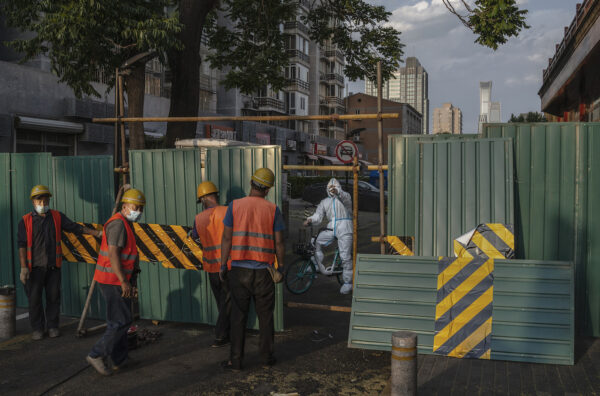 Beijing authorities had already locked down most areas in Chaoyang and Fengtai districts since May 5.
More than 154 bus lines and 101 subway stations have also been shut down.
Meanwhile, residents have complained via social media about unannounced lockdowns in many areas.
All indoor retail cultural, entertainment and sports-related venues are all temporarily closed during the time, as are outdoor parks, offline training institutions, welfare institutions, and nursing homes.
Residential communities and commercial buildings have likewise been shut.
Couriers and deliveries including food are not allowed to enter residential communities in the districts, which has resulted in mass complaints from citizens.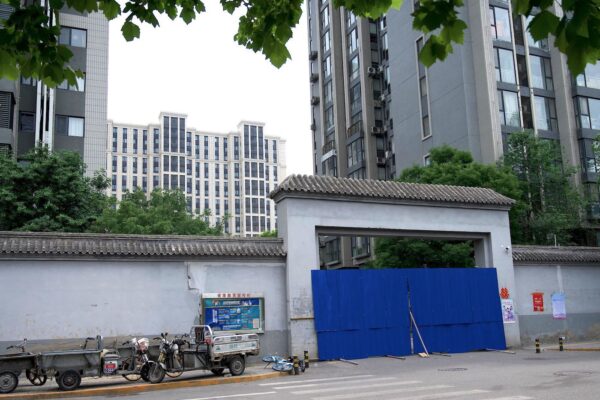 According to official numbers released by the authorities, from Monday to Tuesday, there were 71 new COVID-19 cases reported in Beijing. Since April 22, a total of 1,591 cases have been reported in the city, involving 15 districts.
"I don't know if the official data is true or not," a Beijing resident surnamed Li told The Epoch Times. "Anyway, this time Beijing [its lockdown and control] is stricter than Shanghai."
In recent days, it's been reported in Beijing that the doors of residential buildings have been welded shut and thousands of residents have been forcefully transferred from their homes to centralized isolation facilities.
The Epoch Times obtained a video showing the entrance of a residential building in Beidatun of Chaoyang district being welded shut due to a case of COVID-19  being found among its residents.
Gao Rui, a resident who lives near Jingliang Road in Changyang Town of Fangshan District, told The Epoch Times that tens of thousands of people live in the ten-plus communities in the area.
"There is not a single COVID case in our communities, and it is still being locked down, which is very unreasonable," Gao said.
They had already been under lockdown for five days prior to Monday. The authorities have not provided residents with food or supplies, and they can only get supplies by buying them online when possible.
Affected citizens have complained about the new control measures via Chinese social media Weibo.
"Why do they prohibit delivery and takeaway from low-risk areas from entering the residential community?" one citizen questioned in a Weibo post.
"Some communities are old and have no elevator. There are elderly people living alone at home. How would they get food [without delivery]?" another asked.
"Delivery and couriers are not allowed to enter the community, and residents have to gather at the entrance to pick up their deliveries, [the authorities] have created mass gathering," another said.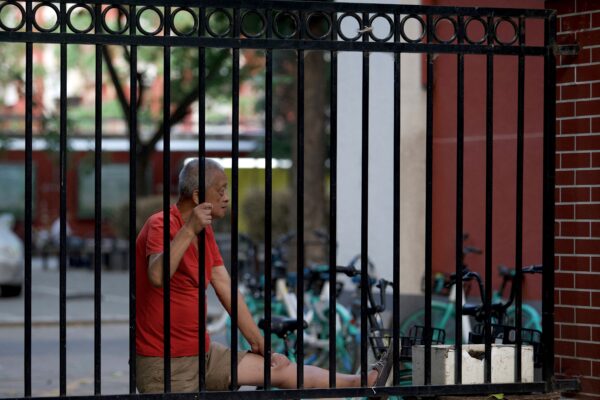 At least six rounds of COVID-19 nucleic acid testing have been done for all residents in 14 districts of the city so far.
Virologist Chang Rongshan said there is a risk of cross-infection when residents go downstairs to line up for nucleic acid testing. Chang said that the regime's goal of clearing the city of COVID-19 by June is "frankly impossible" as the number of daily new infections is rising.
Meanwhile, Shanghai's lockdown still hasn't been lifted despite it beginning in late March. The important northern city of Tianjin went into lockdown on Saturday, causing disruptions to its port operations.
Yan Huixin, deputy chief executive of the WTO Center of the China Economic Research Institute, told The Epoch Times that China's lockdown has caused a plunge in the country's economy.
It has likewise disrupted the global supply chain and further affected China's main exporting destinations—the United States and European markets, Yan said.
Lin Cenxin, Luo Ya, Xu Meng'er, and Hong Ning contributed to the report.