Passengers queue to pass through customs after arriving at Hangzhou Xiaoshan International Airport in China's eastern Zhejiang province on January 8, 2023. (STR/AFP via Getty Images)
The Epoch Times
By Dorothy Li
China has lifted mandatory quarantine rules for inbound travelers and allowed its citizens to head abroad, triggering a homecoming wave. The move comes amid a COVID-19 explosion across the nation, which has stoked global concerns.
As of Jan. 8, international visitors are free to enter China's mainland and no longer need to undergo centralized quarantine at hotels. The border reopening amounts to the final step in dismantling the zero-COVID policy that has hammered the country's economy and led to severe suffering among the populace.
While incoming visitors still need to present a negative PCR test result within 48 hours of departure, the relaxation of cross-border travel restrictions ahead of China's lunar new year was welcomed by many who haven't seen their families for nearly three years under the draconian COVID-19 curbs. On Jan. 8, long lines formed at Hong Kong's international airport for flights to Beijing and other major mainland cities after the former British colony allowed people to cross the border with the mainland without being quarantined.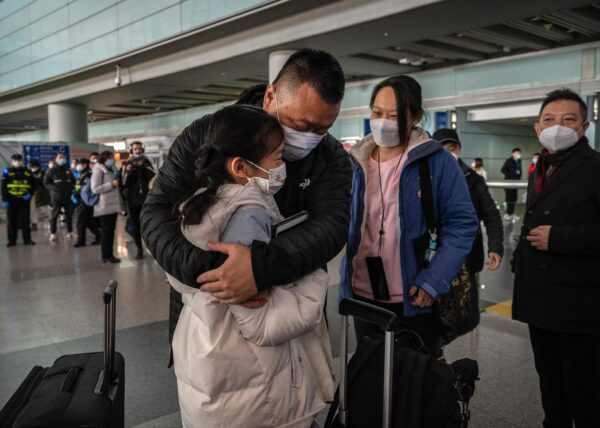 Mainland Chinese tourists are preparing to head abroad. On Jan. 8, Chinese authorities also resumed issuing passports and travel visas for mainland residents. Beijing also has quotas on the number of people who can travel between Hong Kong and China each day.
But travel isn't expected to quickly return to pre-pandemic levels because of a scarcity of international flights and other factors. Japan, in December 2022, announced that it would limit airlines increasing flights to China as part of its border control measures for travelers from China in response to a surge of infections in the nation.
Global Concerns
China is battling a massive outbreak that has yet to peak. China's top health body has stopped publishing daily infection data and has acknowledged only a handful of deaths since early December 2022, when the regime abruptly retreated from its zero-COVID policy on the heels of nationwide protests.
But as many as 248 million people, or 18 percent of the country's population, were estimated to have caught the virus between Dec. 1 and Dec. 20 of last year, according to a memo from the health regulator's internal meeting leaked online and confirmed by media outlets. Local officials and domestic health experts estimated that the infection rate likely exceeded 50 percent in multiple provinces and reached 80 percent in Beijing.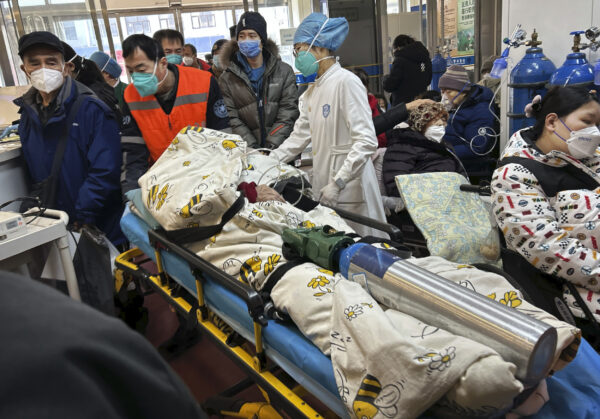 The World Health Organization stated on Jan. 4 that China's COVID-19 data underrepresents the number of hospitalizations and deaths from the disease.
The rapid surge in infections and growing doubts about official tallies have sparked international concerns, particularly regarding the possibility of a new, stronger COVID-19 variant emerging out of China.
The United States and more than a dozen other countries currently require a negative COVID-19 test result for visitors from China. The U.S. Centers for Disease Control and Prevention stated that the measure is meant to impede the spread of COVID-19 on U.S. soil, given "the lack of adequate and transparent epidemiological and viral genomic sequence data." The agency is now considering measures such as sampling wastewater on flights from China to track potential new variants.
The regime has vehemently objected to such testing rules on Chinese visitors, accusing the measures of being politically motivated while threatening unspecified countermeasures.
"We will take corresponding measures based on the principle of reciprocity according to different situations," China's Foreign Ministry spokesperson Mao Ning said on Jan. 3.
Despite Beijing's protests, Japan tightened its border controls on Chinese visitors on Jan. 4. Additional measures require negative COVID-19 tests to be taken within 72 hours of passengers boarding direct flights from China, according to the Japanese government. The tightening came after a Japanese Health Ministry tally showed 53 of 56 international travelers who tested positive for COVID-19 on arrival at airports on Jan. 3 were from China.
Taiwan also reported a relatively high infection rate from travelers from China. Up to 28 percent of arrivals from mainland China tested positive for COVID-19 on Jan. 1, the first day that authorities began screening passengers from its neighbor, according to the Taiwan Centers for Disease Control.
Travel Rush
Many in Hong Kong are now rushing for long-awaited reunions in China. Some Hong Kong media outlets estimated that thousands of people were traveling across the border.
"I'm so happy, so happy, so excited. I haven't seen my parents for many years," Hong Kong resident Teresa Chow said, as she and dozens of other travelers prepared to cross into mainland China from Hong Kong's Lok Ma Chau Control Point early on Jan. 8.
"My parents are not in good health, and I couldn't go back to see them even when they had colon cancer, so I'm really happy to go back and see them now," she told Reuters, noting that she plans to head to her hometown in eastern China's Ningbo city.
The border opening follows the Jan. 7 start of "Chun Yun," the first 40-day period of Lunar New Year travel, which, before the pandemic, was the world's largest annual migration of people returning to their hometowns to spend holidays with family.
Roughly 2 billion trips are expected to be made this season, nearly double last year's movement and recovering to 70 percent of 2019 levels, authorities said.
As a huge number of people prepare for their trips, outside experts offered a bleak scenario of the impending public holiday. As many as 25,000 Chinese people may die from COVID-19 by about Jan. 23, the second day of the Lunar New Year, according to the latest estimates by Airfinity, a British-based health analytics firm. Infection is likely to peak on Jan. 13, when 3.7 million people may catch the virus per day, it stated.
Reuters contributed to this report.