Patients lie on beds in a hallway in the emergency department of Zhongshan Hospital, amid a COVID-19 outbreak in Shanghai, China, on Jan. 3, 2023. (Staff/file/Reuters)
The Epoch Times
By Mary Hong
He was just 27 years old. He passed away on Dec. 30, and the cause of death was listed as a "COVID infection." His father, Li Bing, wanted to warn young people that the newly surging infection does hit the younger generations.
From the day he felt ill to the day he passed away it took just seven days. When the government made it clear that no death certificate should mention COVID-19, his son's case became unique in the nation, Li told the Chinese language edition of The Epoch Times on Jan. 2.
Li said he recently saw a massive number of deaths in his community and that the crematorium was overwhelmed with corpses.
It Was Not a Flu
Li recalled his son lost his appetite on Dec. 25. They all believed it was the flu.
"We all tested negative not long ago, no one suspected that he was infected with COVID," he said.
He had no fever but later he complained his throat hurt so much that he could not cough up phlegm.
On the evening of Dec. 29, he was very uncomfortable. He had a bowl of porridge and went to bed. The next morning, he passed away.
The doctor issued the death certificate that listed the cause of death as COVID-19 infection.
Li blamed himself for ignoring his symptoms and thought it was just a flu.
Corpses Filled the Crematorium
His son was cremated that afternoon at the local crematorium.
Li's city in Anhui province—a landlocked area in eastern China—has less than three million people. There is only one crematorium. After the cold storage ran out of space, dozens of bodies have been left on the floor. "There were too many to be cremated," Li said.
A funeral assistant told him that all four furnaces were operating daily, up to 80 bodies a day. "A lot of people have waited for more than a week. There's no coffin," he was told. His son was cremated without a coffin.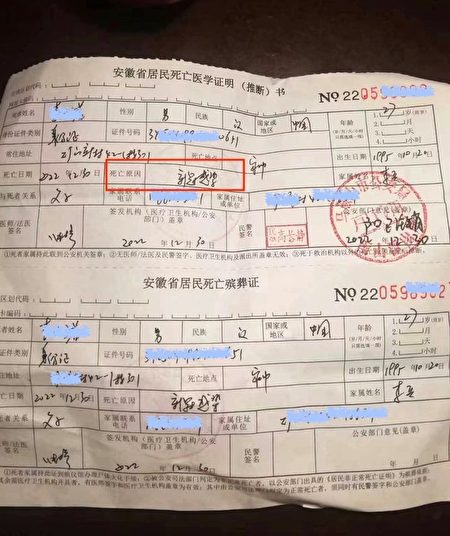 COVID Death Is a Taboo
Li said the Chinese regime has ruled against COVID-19 being listed as the cause of death on the death certificates.
His son's death certificate disturbed the head of the funeral parlor who said, "This hospital leader had the nerve to write down COVID infection."
According to the funeral parlor leader, all crematoriums and hospitals were notified to list any other disease such as lung infection or respiratory infection as the cause of death, regardless of the age. "No hospital would dare to specify COVID infection," the head of the funeral parlor told Li.
Li said that the head of the crematorium was intrigued and took a picture of the handwritten certificate.
When the funeral home director was entering Li's son's data on his computer, Li saw some of those who had recently died, he said. The youngest was a 16-year-old body and the oldest was 70. "There were many in their 30s and 40s."
"They were noted as lung infections," he said.
Local staff at the police station were also surprised by the death certificate when he went to the department of household registration.
In China, everyone has a household registration listed at the police station. When a person dies, a family member has to go to the police station to cancel that person's registration.
Shocking Number of Deaths
Li found the number of deaths in his community to be shocking.
There were elderly people passing away almost every week, he said. "I can't find one elderly [person] in my neighborhood now, there used to be about 60 of them."
It's not just one family or two but many, he said. It was like he would talk to someone one day and the next day the crematorium would send a hearse to retrieve his body. "It was just this fast."
Even the staff at the household registration also said too many people had visited them to cancel a registration.
Li complained that so many Chinese people have died from the Omicron variant in China, but there were not many deaths in neighboring countries such as Hong Kong, Taiwan, South Korea, or DPRK, "A queue ticket to the crematorium service can be resold for more than tens of thousands of yuan [a few thousand dollars]," he said.
He blamed the regime for hiding the facts of the epidemic in the country, "The authorities only published 11 COVID deaths at this point. They won't tell you the facts. But anyway, one happened in my family."
Since China set a strict definition of COVID-19 deaths to be those who died of "respiratory failure caused by COVID" on Dec. 20, only 17 deaths were listed due to COVID-19 as of Jan. 4.
Li said he believed the cover-up of the death toll will only mislead people into believing the infection is minor.
"Be aware! Young people can die from it, too," he said.
Lin Cenxin and Yi Ru contributed to this report.